Eastern States Cup #4 – Plattekill Mountain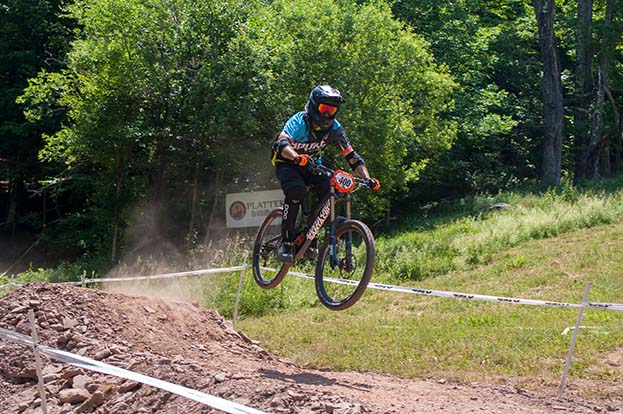 July 18, 2016
You can't race DH on the East Coast and have never raced Platty. – Bobby Michailides.
I've known this all along. Hearing Bobby say it was the reality I needed. This place is sick. Every single word you hear is true. Loose. Steep. Shale. Ground moving. It was a great weekend. Four of us made it up and we all camped together. I was in good company as every one of these guys could be considered veterans of this mountain. Bobby brought his Jedi, I brought the pit, Joe brought the stove and Jeremy brought his dope camping van. It was on.
Parking lot camping is the shit. At Platty, almost anything goes. Couldn't be a cooler environment. Joe P. brought up the vintage mini bike, and I rode that thing all weekend long. Every person there was stoked on it. Even Jon Hanson. He had to grab it for a rip when he saw it. Thanks for making it extra cool Joe!
No real features or gaps on this course. What we did have was one steep mother of a chute. Take a look at Bobby's face above. Love this pic. He's standing at the top of the roll-in to the chute. His face says it all. Once you crested that rock he was standing on, it was all-in. A little bit of a back brake or no brakes at all. There was no stopping and those pads were your enemy.
Quite honestly, we were all like WTF looking this thing on our track walk. Fahey was busy riding the course slow. The other three of us walked it.
First run Bobby and I and Joe rolled up and dropped right in. Joe was first and never hesitated for a second. It was real cool following him in. Total vet status. I knew that if he felt like that about it, it would be all good. Lots of confidence seeing him dive right in. Thanks again Joe!
Ok. Here's a good one. Maybe my favorite MTB race shot ever. Thanks for being there to grab this Jason! Rode that chute all day, no issues except one bobble on a run……with Pharaoh on my ass. I personally never hit the dirt but I was terrified of being run the F-over by Mad Max Beyond Thunderdome who I knew had no chance of stopping. Luckily, this kid's got mad bike control cause he missed me by about an inch clean. He sounded like a freight train coming through that bitch.
Pharaoh sounded like a freight train coming through that bitch.
It was a hell of a sight and sound to get passed that close by someone going so damn fast in such a steep section. The chute is twice as steep as it looks here.
Probably one of my fav all-time podium shots. Jay Dallegro got pretty tore up in this race (in the chute). Pryde took the top step and repp'ed Jay hard with Jay's jersey around his waist. Our boys on the heels of the black and red. BALLER. Healing vibes Jay!
Ever see Bobby's left leg? Looks like a Manatee that swims too close to propellers and shit. Winnie takes care of him.