Gravity East #3 – Blue Mountain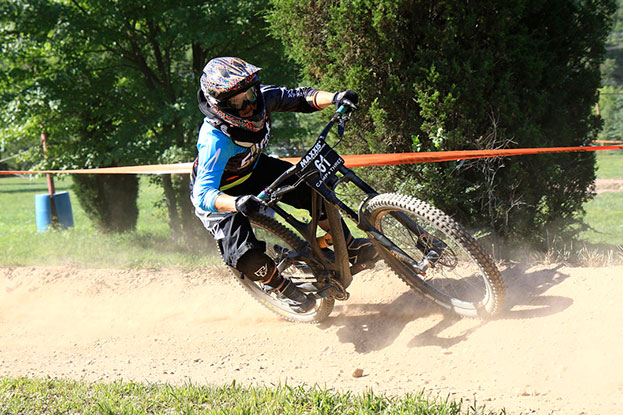 August 9, 2016
Pics: Amanda Karfakis & Mike Vanino
Perfect Weather
Blue is always a 50/50 when it comes to rain. Last time we were here this season, we were racing in a cloud and a ton of rain. This time was different. And soooo good. Dusty, dry, loose. Perfect warm-up for Windham this coming weekend.
Tracey and Amanda rode together all day Saturday. Didn't see 'em at all most of the day. Was cool to know they were out there getting it. Amanda had a pretty rough OTB but was OK at the end of the day. Close one!
Had a great time camping and hanging out Friday and Saturday night. Come practice, I got up to speed chasing Jeremy. Felt the speed coming on and was about 10 seconds back come noon. Ended up with my cleanest race run of the season so far. Felt great but still 20 seconds off the leaders. Had some target goals to hit and hit em so I'm happy. New bike is running so smooth. Such a good time to ride it. Gotta find 10 secs.
Shack had a rough crash in his race run in the rock garden. Walked away and crossed the line OK but lost a good bit of time. Next one Joe!
Brigandi on course! Won practice for sure. He was blowing up berms all day long. On course and off course with Tommy following him and shooting all kinds of content. Was dope riding behind Justin and seeing what he would do. His lines are his lines. Ever see someone ride on top of a berm at speed? Sick riding buddy. Glad you were with us!!
Amy had a killer weekend. She race both the DS and DH. Took second place DS by less than a second on a 6″ inch bike. Sick. Time for a dirt jumper Amy!! Pushed her to get in a few DH practice laps behind me after the DS. She was tired but made it happen. I think knowing the course a little going into Sunday AM practice helped a bit. She took 3rd in DH. Congrats!!
Jeremy also had a killer weekend. Took first place. Clean practice runs. Text book. Nice work buddy. Was cool having Lacey around. She made two podium shots. Check it out below!!
ON TO WINDAM!!!!