ESC #4 – Plattekill, NY July 2017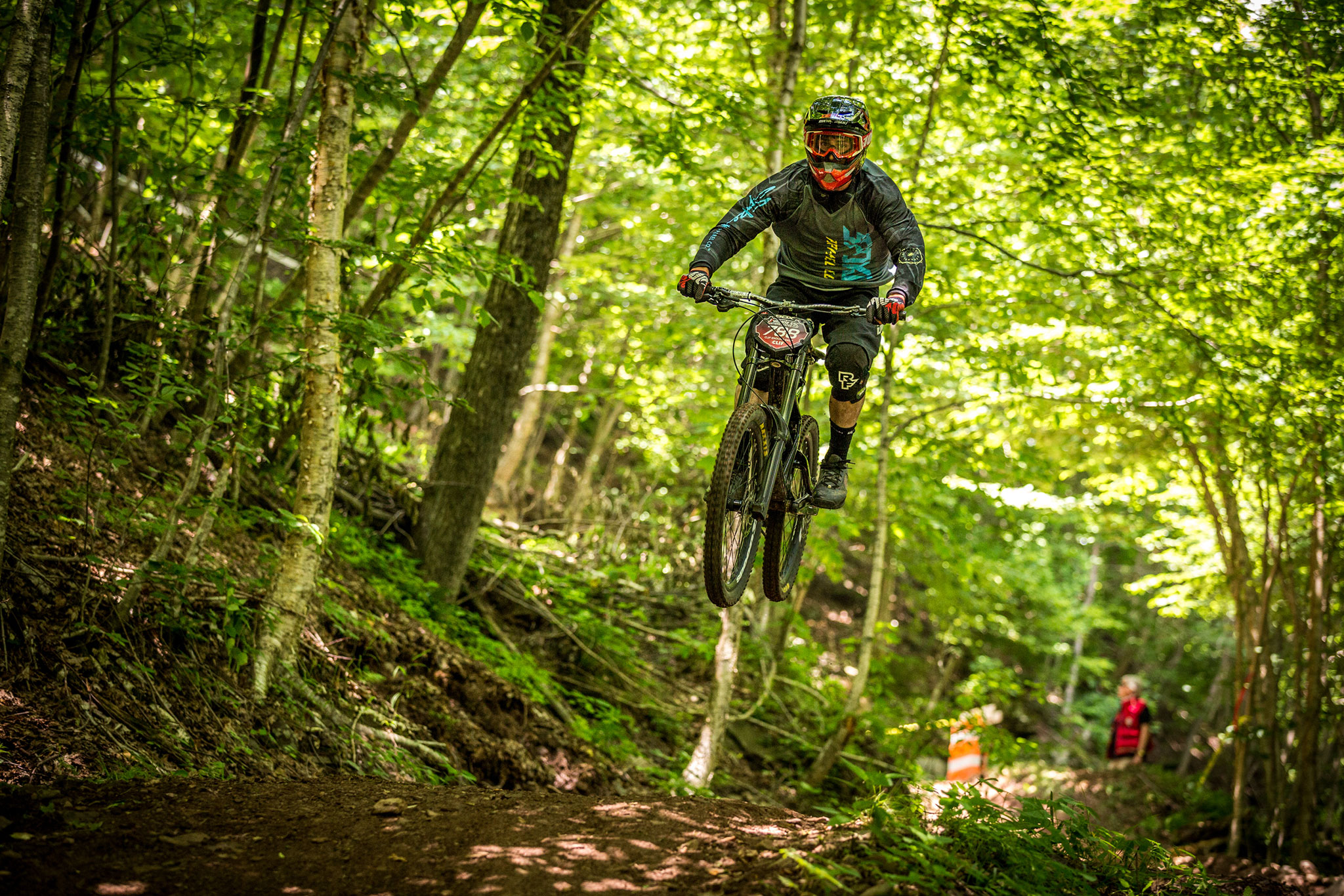 July 9, 2017
The Scoop
We had Dylan, Jon and Mark at Platty for Eastern States Cup race number four. Fahey was out with a minor injury otherwise this probably woulda been a Binghamton Boys trifecta. Dylan and Mark rolled into town on Saturday and got right to work. Jon and Lexi arrived late on Saturday.
Saturday Practice
The sun was shining bright. A track walk for Mark and Dylan to start the day. There were a few tricky sections, but on the whole the track looked fun and fast with a big double towards the end and a decent size ladder drop on course. Once the bikes touched dirt, the boys hammered out practice runs 'till the rain came and shut things down for the day. It was a good day of practice. Both guys were feeling good coming into race day.
Jon, only able to get one run in the dry, wasn't feeling the course so much. He got on the lift to do another run and up in  a monsoon on the lift! Jon got to the top and ran to the little ski patrol building for shelter. Ernie, Jake Kahn, David Kahn, Riley, and few others joined him there for shelter. After the rain had stopped, Jon got back to practice and was really digging the track. While everyone else just rode to get down, Jon was hammering out laps. Mauricio, and Piotrek joined up later. In Jon's words, he "won Saturday practice."
Race Day – Sunday
The sun was out and there where blue skies for as far as the eye could see. Dylan and Mark jumped right back into practice feeling rested from a night under the stars. They got the track dialed in, finished practice, and went up for their race runs.
Jon went down in practice pushing too hard. He spent a bulk of his practice time helping a seriously injured rider get daisy chained down on a backboard .Jon burped his tyre flat in his race run and decided to DNF and save his bike, since he is not a runner in the series.
Dylan's Race
Dylan had his lines dialed. On his race run, he came barreling into the first chute, got off line and came to a complete stop. He jumped off the bike to reset and made another mistake further down the course. He was able to rally enough to finish 12th out of 20 in pro. Considering the pro field alone had 5 riders DNF, this was a respectable finish for Dylan. Good work!
Mark's Race
Mark found himself waiting on the start gate going over what needed to be done in his head. He put down a super clean run good enough for a sub 3:00 minute time and first place on the podium for Cat2 30-39. Congrats Mark!