Maxxis Gravity Series #4 – Bryce Mountain Bike Park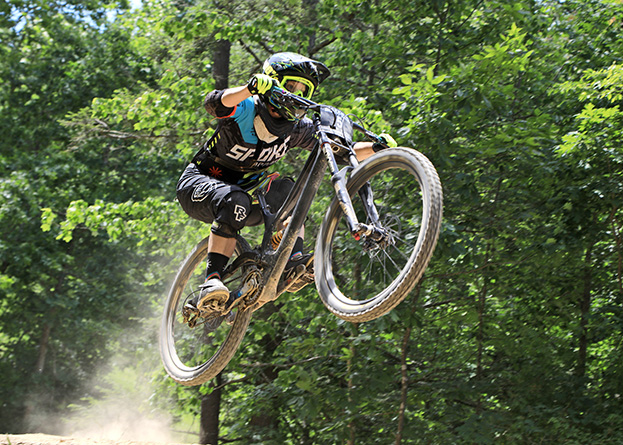 July 5, 2017
The Venue
Not our first pick to race or ride but any day on the bike is a good day. The course was buffed double track leading from wooden feature to wooden feature including a cork screw? Yeah, including a cork screw. Hanson got flushed down it in his race run. More on that later. Bryce was built by Gravity Logic so the trails are fun, flowy and cool. It's just that this race course didn't have a real woods section, rock garden or even anything normally found on a proper DH course. Trail bike for the win at this venue.
The Whipoff
YEEEOOWWW Another whipoff! Two weeks in a row we're with Hanson only this time, he podiums! Second place behind Logan Mulally. Contest was good fun for sure. Nice work Jon!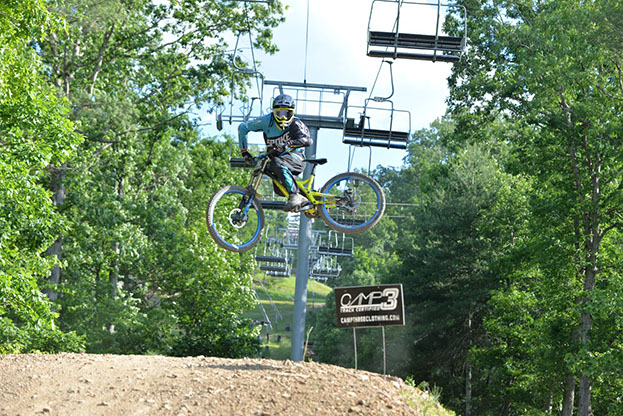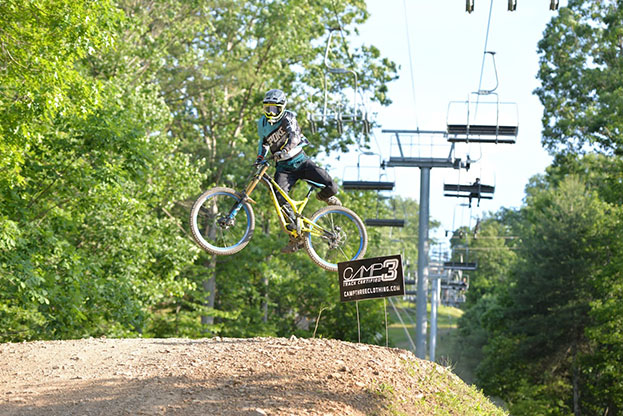 Amy's Practice & Race
Amy was all flow and speed all weekend long. I was following her into things and she was boosting the heck outta the step-up and actually getting to the top of it and over. Pretty rad. She finished the day second, behind Robin, who rides Bryce as a local.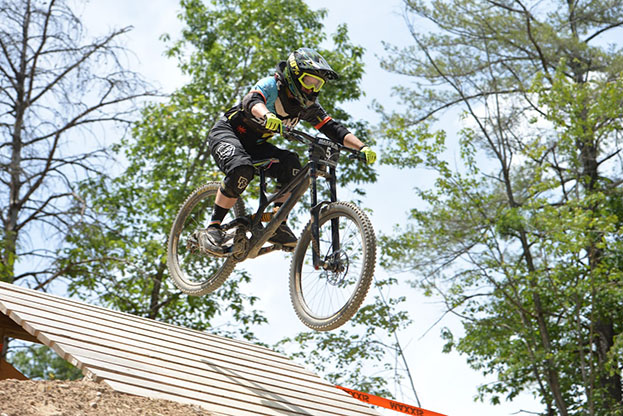 Jon's Practice & Race
Jon was literally repairing brakes in the parking lot the day of practice and then again the day of the race. He barely made his start time. Something about a sticky bolt and the pads being worn all the way down to the backing plates. Heh. He would make his start time, and despite his crash in the toilet bowl, would still end up third on the day for pro men and would still end up beating my time by a lot. Heh. Nice work Jonny!
Mike's Practice & Race
I really didn't like racing/riding here. Yes, I had fun but I do not practice on buff double track so I am just not used to riding this stuff fast. This was my second race back and there where some nerves for sure (for no real reason, track was so safe). My main focus is on getting my routine and my flow back on. These are two things I lost completely racing Cat 1. Not sure why I let go of them, but it happened.
So for this race, my goal was to get my practice run recorded and timed and then to improve on that data in my race run. I did exactly that and it felt great to be able to go through that process smoothly again. When you are coming back from a big off, you are looking at getting back way more than just your physical function. For me, I am putting my entire racing repertoire back together. And while I finished this race almost last, what I learned was that my race run should have been my fastest practice run. My race run then should have been 20 secs faster. This is my usual routine. What I learned at Bryce was how far away from the usual me I was. Exactly the stepping stone I was looking for.